GoDaddy Vs. HostPapa: Canadian Cost Comparison WP Hosting 2020
GoDaddy vs. HostPapa: Canadian Cost Comparison for WordPress Hosting 2020
H

ave you always wondered what is the true Canadian cost of a new WordPress website in 2020?  I'm talking about a self-managed website where you have control of your own domain.  
In this post I will show you a cost comparison of having a website started using one popular host provider GoDaddy and one that I've been using called HostPapa to get a feel for the initial cost in the first 2 years.  The technical aspects of the hosting providers are largely ignored as this post is aimed at the average person who just wants to know the true cost of starting a WP website.  
In my next post I will show you the Canadian cost of using Wix vs Weebly which are both not self-managed, which means the respective companies provide the hosting for you.  To make this comparison between two similar products simple, we will make the following assumptions.  
Assumptions: 
Website shall be a managed WordPress which reflects the product offered by the hosting providers.

Hosting Plan shall be the most basic type from both host providers.

No extra features such as malware scanning/hack alerts.  The only extra feature which is crucial to start the process of getting a website is the domain registration with the hosting providers, & the domain privacy feature.  

We assume that one chooses an available domain address that comes free with opening a new account with the host providers (at least for the first 2 years).  We are not paying extra for coveted domain URL (for example: popular.com)

We will use a starting point of CAD $500 as the cost of the website design process.  Realize that this cost can be really different depending on what you actually need for your site.  

So take a peek at the basic plan breakdown from GoDaddy below.  Luckily GoDaddy already show the pricing in Canadian dollars.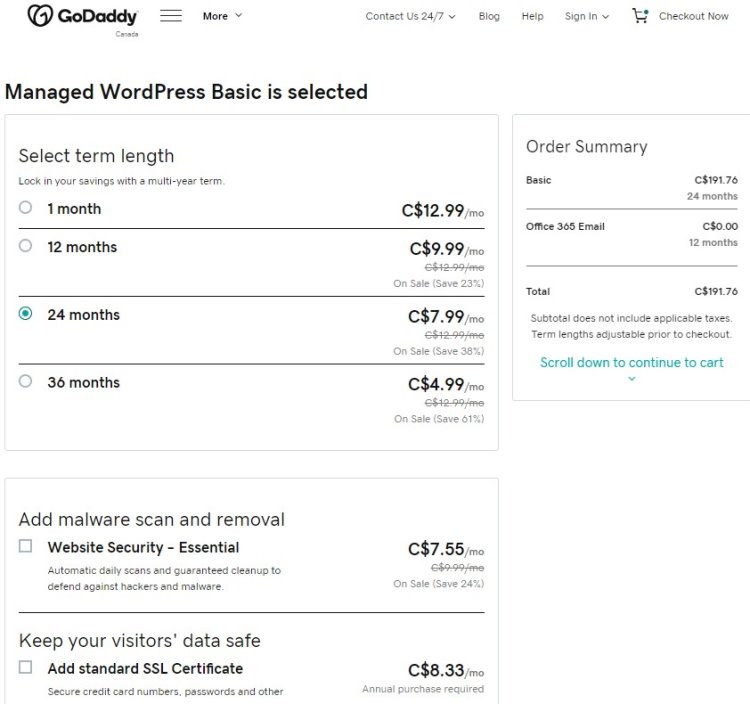 Now look at HostPapa's hosting pricing for an offering that's comparable to GoDaddy's offering.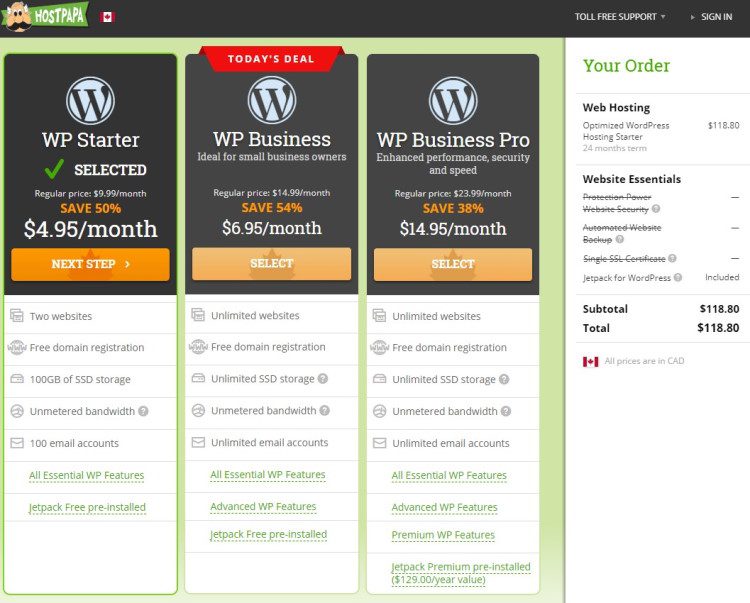 Now let's compare both HostPapa and GoDaddy's hosting package pricing side by side.
| | |
| --- | --- |
| GoDaddy Basic Managed WP hosting & domain registration for 2 years-> | CAD $ 191.76 (At first glance) |
| HostPapa Starter Managed WP hosting & domain registration for 2 years-> | CAD $ 118.80 |
But you might say that's not apples to apples because GoDaddy does NOT include the SSL certificate AND, the email will be charged extra after the first year.
At first glance it looks like HostPapa doesn't include any SSL either however take a peek when I hover over the "All Essential WP Features" section: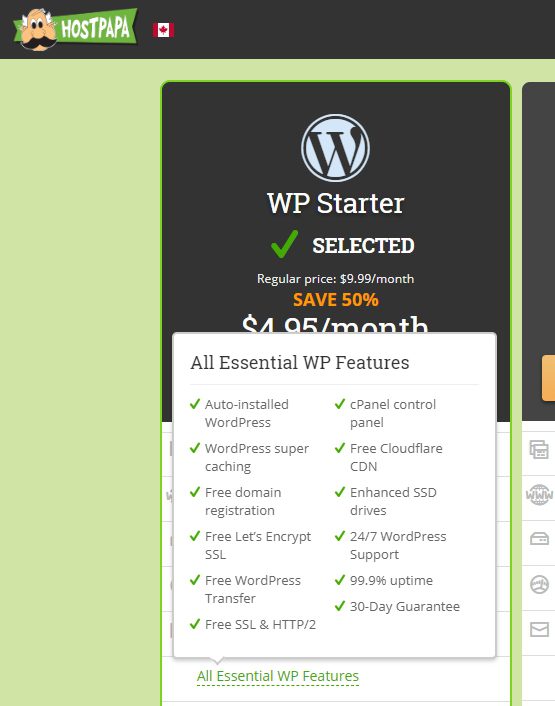 As you can see above, HostPapa actually offers free SSL in their hosting package.  This will become a huge difference in pricing especially when you reach the 2nd year of hosting as GoDaddy will charge CAD $ 8.33/month or $99.96 extra for the SSL certificate per year. This is truly mind boggling in 2020 as any new website created should be on a secure site.  Google will penalize any unsecure sites in terms of SEO.
Another point of contention is the email cost.  If you look at GoDaddy, after the first year there will be an extra charge of CAD$3.99/month.  That's an extra CAD$47.88/year.  So you can see that GoDaddy's price for two years is actually much higher than at first glance.  Here's the pricing table to include the other hidden charges for the whole 2 years of hosting coverage plus the default $500 site design cost:
Note: If viewing these tables from mobile, view horizontally for clarity.
GoDaddy Basic Managed WP hosting & domain registration for 2 years->

Plus SSL certificate for 2 years

Plus Email account for the 2nd year

Subtotal for hosting & domain

Initial (Default) Web Design Cost

TRUE Total

CAD $ 191.76 (At first glance)

+ CAD $ 199.92

+ CAD $ 47.88

 = CAD $ 439.56

+ CAD$ 500.00

= CAD$ 939.56
HostPapa Starter Managed WP hosting & domain registration for 2 years->

Initial (Default) Web Design Cost

TRUE Total

CAD $ 118.80

+ CAD$ 500.00

= CAD$ 618.80
Keep in mind that the web design cost can be extremely different in your case depending on the complexity of web design you need.  If all you need is a basic 5 page site that acts as a brochure for your business then $500 is very realistic.  In fact this is how much I charge for a basic 5 page website that doesn't require e-commerce or other complex functionality.  However even if you decide to create your own site, consider that your time is worth money and you might as well leave that $500 as a default cost to your time.
So there you have it folks, consider the above totals as the starting bare minimum cost of a self managed WordPress site for 2 years.  Note that after the 2nd year even HostPapa's hosting package cost will increase too.  
I know it seems like I'm penalizing GoDaddy but I have dealt with both host providers and technically they are both adequate.  I'm just not a fan of GoDaddy's pricing structure as it truly hides the real cost from year to year.  HostPapa's is more straightforward and this is what this site is hosted on.  This is why I have no issues promoting HostPapa here and if you start with HostPapa for your hosting needs, I do appreciate the kickback so thanks ahead of time.  I  Hope you find this helpful.
Have questions about how you can get your very own WordPress Website designed?